Wyatt-Swain, who is in her third year of the Doctor of Veterinary Medicine (DVM) program, grew up in Fort McMurray, Alta. She is both Métis and from the NunatuKavut (our ancient land) community in Labrador. 
As co-president and co-founder of a student organization called WCVM DIVERSE (Diversity and Inclusivity in the Veterinary Environment: Respect, Solidarity, Empowerment), Wyatt-Swain works to advocate for increased diversity, equity and inclusion within her profession. She and her club members also work to provide opportunities for discussion and education within the WCVM student body and the broader college community.  
Alongside co-president Asadeh (Azy) Behnam-Shabahang, Wyatt-Swain recently received the Diversity, Equity and Inclusion Rising Leader Award from the Multicultural Veterinary Medical Association (MCVMA), an international organization dedicated to supporting diversity within the veterinary profession.  
As an Indigenous representative for the Western Canadian Veterinary Students' Association (WCVSA), Wyatt-Swain has taken on numerous responsibilities, including a role in the WCVM Committee on Indigenous Engagement. In October 2021, she organized a ribbon-tying ceremony to recognize survivors of the residential school system.  
Wyatt-Swain will receive an award for leadership at this year's University of Saskatchewan Indigenous Student Achievement Awards on Thursday, March 10. Indigenous students from across campus will be honoured at the virtual event, in recognition of academic achievement, community engagement, leadership, research and resiliency.  
The award ceremony is part of Indigenous Achievement Week (IAW) that celebrates the successes and contributions of Métis, First Nations and Inuit students, staff, faculty and alumni. Online events include discussions, a storytelling performance and a film screening.  
Wyatt-Swain agreed to answer some questions about her inspirations and aspirations.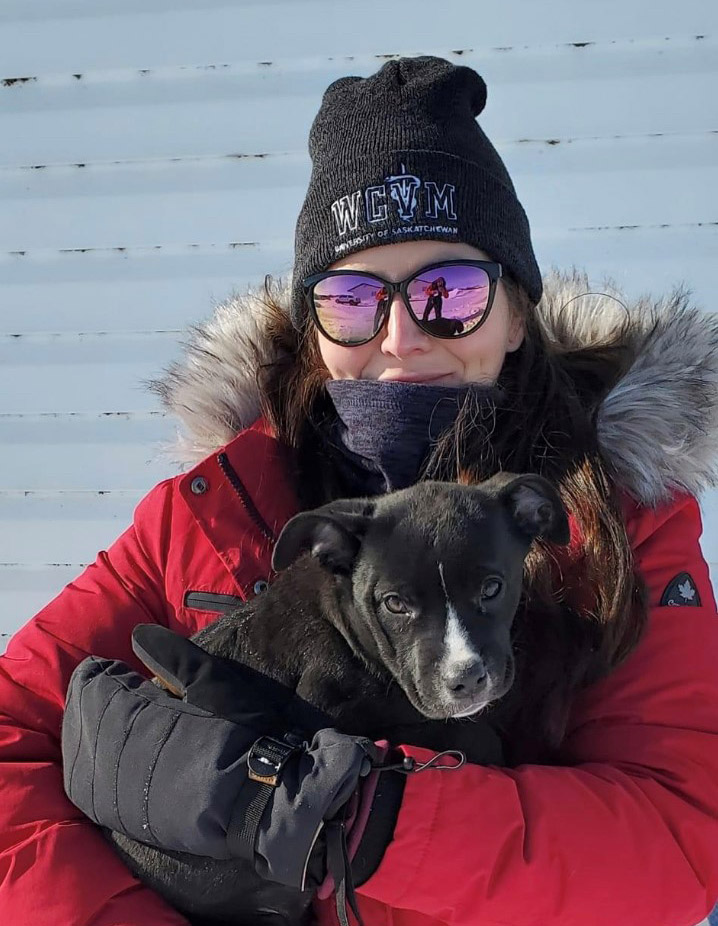 Why did you decide to pursue veterinary medicine?  
I've always known I wanted to be working with animals, even as a kid. My uncle remembers me telling him when I was three years old that I wanted to be an animal doctor, so I think that spark was always there. During my early adult years I worked with the SPCA before having my daughter in 2010. It was then that I decided I would like to fully pursue my dream of veterinary medicine. We packed up the family and moved to Labrador so I could upgrade my college courses, then we moved to Saskatoon when I was accepted at the WCVM.  
Has your Indigenous heritage influenced your university career?  
It definitely has! I want to continue to work closely with Indigenous communities in whatever way is needed, whether that be helping with dog management techniques or providing vet care to remote areas, things like that. Currently I am helping Dr. Jordan Woodsworth with her PhD research examining dog management options in northern Saskatchewan communities, as well as volunteering with Canine Action Project, and these are things I'd like to continue to do when I'm in practice.  
Has there been anyone in your life who has inspired you to get to where you are today?  
My entire family has inspired me to get where I am today. My daughter, husband, mom, dad, sisters, nans (grandmothers), aunts and uncles. Without them, I wouldn't be here.  
My close friends and "vet med" family have also inspired me, and I am really lucky to have this extended support network both in my personal life and within the WCVM.  
You are co-president and co-founder of the WCVM DIVERSE student group. What motivates you to advocate for diversity, equity and inclusion in your college and profession? 
 
Azy Behnam-Shabahang is the other half of DIVERSE, and she approached me with this idea that we should start a club like this at the WCVM. At first I was pretty hesitant because I already had enough on my plate with vet school, being a mom and working — but then I realized we could really make an impact. We now have over 40 members in the group and clear goals we want to accomplish such as increasing Indigenous equity seats and implementing anti-racism training at the WCVM.   
What do you hope to do after you graduate?  
We will be moving to Alberta when I graduate next year, and I'll be applying to clinics in the area. In addition to this, I will be forming relationships with Indigenous communities in that area to see if any assistance is required regarding vet services and dog management.  
Many Indigenous communities recognize the interconnectedness of humans, animals and the environment – not seeing one as more or less important than the other. What's your perspective?  
I think the bond we have with our animals is really special, and something that has been ongoing for many, many years. Connections with animals has been a part of the Labrador Inuit culture for generations, whether that be for sled dogs, companionship or protection. For example, we have many black and white photos of my relatives with their husky dogs and puppies.  
My perception of the human-animal bond has changed during vet school for sure. I've been exposed to situations where a person's pet is all they have in this world and that bond is very strong. I've worked with police dogs that are 100 times easier to treat when their handlers are with them in the clinic. Seeing that relationship in person and over different circumstances has been very special to witness.