With people taking a greater interest in their pets' health, products such as low-glycemic pet food are rising in popularity. A low-glycemic pet food is one that contains carbohydrates that are digested slowly, thus helping blood glucose levels remain stable. Stable blood glucose levels can help prevent a predisposition to health conditions such as obesity and diabetes.
Peas, lentils, chickpeas, or other pulses are promising ingredients for the production of low-glycemic extruded pet foods. For University of Saskatchewan (USask) student Yikai Ren, the popularity of low-glycemic pet food combined with the strength of Saskatchewan's pulse crop industry presented an exciting research opportunity.
"My research investigated the effects of pulse types, processing conditions, and addition of rosemary extract on the physicochemical and nutritional properties of extruded dry pet foods," said Ren.
Ren will officially receive his Doctor of Philosophy in Food Science at USask Spring Convocation, taking place in-person on June 7 at Merlis Belsher Place. 
In March 2023, he successfully defended his PhD thesis, which was supervised by Dr. Yongfeng Ai (PhD), associate professor in the Department of Food and Bioproduct Sciences in the College of Agriculture and Bioresources, and the Ministry of Agriculture Endowed Research Chair in Carbohydrate Quality and Utilization.
For his research, Ren analyzed the physicochemical and nutritional properties of pulse flours and produced an extruded pet food from them. He then collaborated with Dr. Lynn Weber (PhD), associate dean and professor in the Western College of Veterinary Medicine, to feed the extruded pet food to research beagles and analyze the physiological results.
"The results of my PhD research revealed that wrinkled pea flour, with higher amylose content of starch than normal round pea flour, demonstrated unique functionalities and lower starch digestibility," Ren said.
"My research also demonstrated that the overall quality and nutritional properties of extruded pet foods could be significantly affected by the selection of pulse varieties, manipulation of extrusion conditions, and incorporation of rosemary extract."
The real-world application of this research could help sustain the growth of the agri-food sector by utilizing Saskatchewan and Canadian pulses to create high-quality and nutritious pet foods. Ren's research findings could also be applied to comparable food products for humans.
"High-amylose wrinkled pea will be a promising crop for the development of healthy, low-glycemic foods and feeds in the future," he said.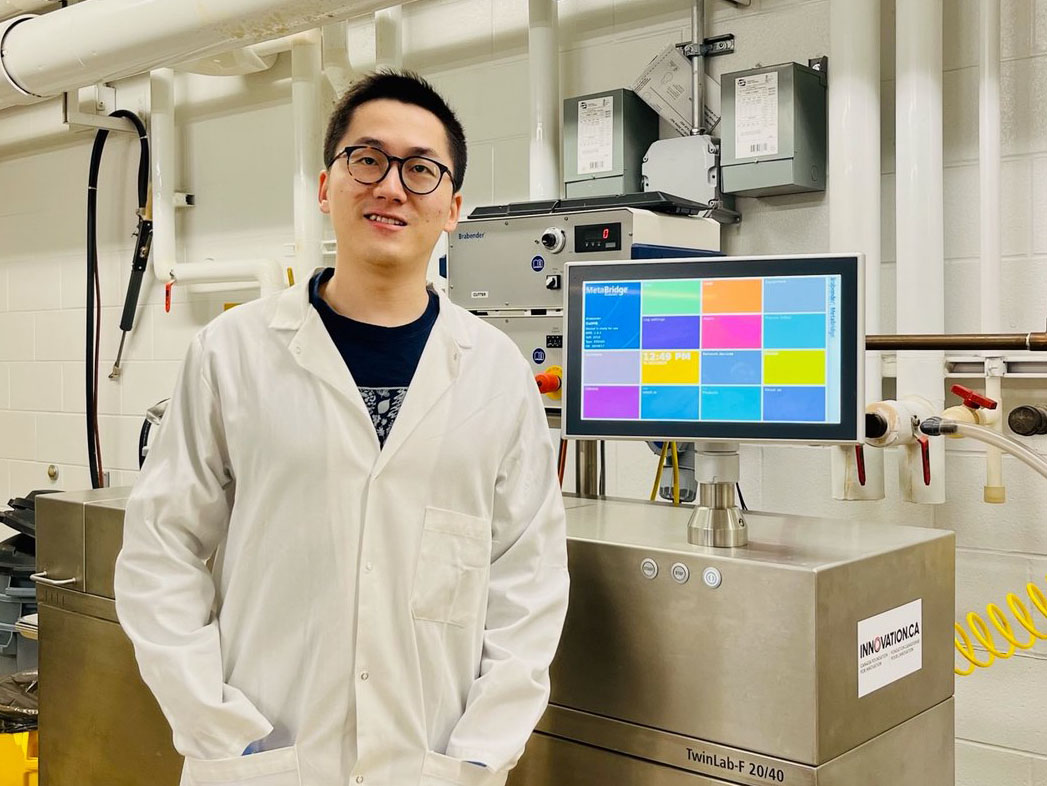 Ren's research was funded by the Saskatchewan Pulse Crop Development Board, Agriculture and Agri-Food Canada, Natural Sciences and Engineering Research Council of Canada, and Canada Foundation for Innovation. His research has also been published in the journals of Food Chemistry and Cereal Chemistry.
Now that his PhD is completed, Ren is working as a post-doctoral fellow in the Carbohydrate Chemistry and Utilization Lab in the College of Agriculture and Bioresources. He looks forward to working in academia and conducting more research in the future.
"The University of Saskatchewan is reputable for its agriculture and food science programs and has exceptional research resources and opportunities," said Ren. "Research is like a puzzle; when you finally find that missing piece to fill that gap in the research field, it's exciting."