"This is a unique learning opportunity, and I think there's also real value to just gathering and talking to other diagnosticians – establishing those important relationships," says Marilyn Jonas, chair of the symposium's organizational committee.
Presented by the Canadian Animal Health Laboratorians Network (CAHLN), the event offers a diverse program that covers five themes: detection, management and control of new emerging diseases; wildlife and One Health; new technologies; turning laboratory data into intelligence; and control and management of endemic disease.
One day before the symposium begins, the Canadian Association of Veterinary Pathologists will offer a forensic pathology workshop on June 14. The World Organisation for Animal Health (Office International des Epizooties or OIE) will also deliver a seminar that runs concurrently to the symposium and deals with new diagnostic techniques and international standard setting.
"It's the kind of program that will appeal to both the diagnostic sector and veterinary practitioners, and the OIE seminar will also attract our government regulators at both provincial and federal levels," Jonas explains.
Jonas is also CEO of Saskatoon's Prairie Diagnostic Services Inc. (PDS), the provincial veterinary laboratory that's located at the Western College of Veterinary Medicine (WCVM). Working primarily with clients in Saskatchewan and Western Canada, the non-profit organization delivers veterinary diagnostic services and expertise that support animal health, public health, environmental health, food safety and market access.
Featured speakers at the WAVLD symposium include Dr. Bruce Akey, who will address technological advancements and the changing role of diagnosticians. A founding member of the U.S. National Animal Health Laboratories Network, Akey is director of the Texas A&M Veterinary Medical Diagnostic Laboratory.
Dr. Thijs Kuiken, a former Saskatoon resident who completed his PhD degree at the University of Saskatchewan (U of S), will present information regarding avian influenza. Kuiken is a professor of comparative pathology at the Erasmus University Medical Centre in Rotterdam, The Netherlands, and has carried out important work regarding new and emerging diseases including severe acute respiratory syndrome (SARS).
Dr. Gary Wobeser, a professor emeritus in the WCVM's Department of Veterinary Pathology, will offer a session on disease and conservation biology. Wobeser was one of the original founders of the Canadian Cooperative Wildlife Health Centre (now known as the Canadian Wildlife Health Cooperative).
The symposium will also showcase oral presentations and posters dealing with research, laboratory procedures and techniques of relevance to veterinary laboratory diagnosticians. The WAVLD will present two $1,000 awards to graduate students for the best oral and poster presentations.
Jonas points out that another valuable aspect of the conference will be the excellent cross-section of suppliers who will be attending and providing information on innovative products that range from lab equipment to software programs.
With approximately 350 delegates expected, the international symposium should bring substantial economic benefits to Saskatoon and the province. As an executive member of CAHLN, Jonas played an important role in attracting the event to the city.
"We pointed out that Saskatoon is a gem in the middle of the Prairies," says Jonas. "It's a smaller, beautiful city, and we have a big science sector here. I think having the symposium in Canada is a real attraction as well, and we've emphasized a real Canadian focus to the conference."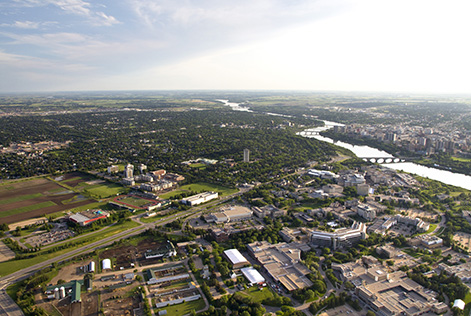 The organizing committee has arranged tours that will give delegates the chance to explore Saskatoon and local attractions. A science tour showcasing the U of S will provide tours of the PDS labs, the Vaccine and Infectious Disease Organization-International Vaccine Centre (VIDO-InterVac), the Canadian Light Source synchrotron and the WCVM.
A river tour will include information about the history and operation of the Meewasin River Valley, and an agriculture tour that includes a visit to a working ranch will give visitors a chance to learn more about Saskatchewan and its agriculture industry.
The symposium's agenda also includes evening functions that highlight Saskatchewan history, foods and entertainment while providing opportunities for networking and socializing.
Jonas points out that the WAVLD hasn't held a symposium in Canada since the late 1980s, and having an international conference in Saskatoon provides a tremendous opportunity for local diagnosticians, researchers and veterinarians.
"One of the big benefits from this type of program is the networking. Establishing those relationships, whether it be for doing diagnostics or further research, is of real value to us as well as our partners including the WCVM, VIDO-InterVac, and the whole animal health industry."
Visit wavld2015.com
for more details about the WAVLD symposium program and its speakers.