Award recipients received over $155,000 in scholarships, awards and bursaries. These awards recognize academic excellence, leadership and special interests. This year's event included some new awards for students in the Doctor of Veterinary Medicine (DVM) program as well as for graduate students and faculty.
Class of 1978 Wellness Scholarship: The Class of 1978 created this award to emphasize the importance of self-care while becoming a successful veterinarian.
"We are the Class of 78 and thought it was important to create an award that would show our appreciation for the Profession and the College and would be of benefit to the students.  We've been in the profession — in the world around us — for a long time, and we all know the importance of well-being. We all have some of the scars of a life in the profession. It's a beautiful profession, but everybody needs to take care of themselves. Wellness is really important," says Dr. Dennis Will (WCVM '78), who presented the award on behalf of his class.
"We spent a long time discussing the kind of award we would like to sponsor.  In the end it was unanimous.  We wanted to raise the awareness of the importance of wellness, of self-care and recognize the student that best exemplifies this need."
Second-year student Emily Lieuwen received the award, valued at $1,000, in recognition of her focus on self-care for herself and fellow veterinary students.
"I think this is a super exciting new award, just because there's a lot of awards that focus on academic excellence and helping other people and the community and your school, but there's not a lot of focus on helping yourself, choosing yourself first, because you have to be happy and healthy in order to help anyone else in the first place," says Lieuwen.
Lieuwen makes time to play intramural sports and spend time at the gym, as well as enjoying outside interests like writing, photography and reading — and not just textbooks.
 "I just think, especially in the profession of veterinary medicine, this is a really important area," she says.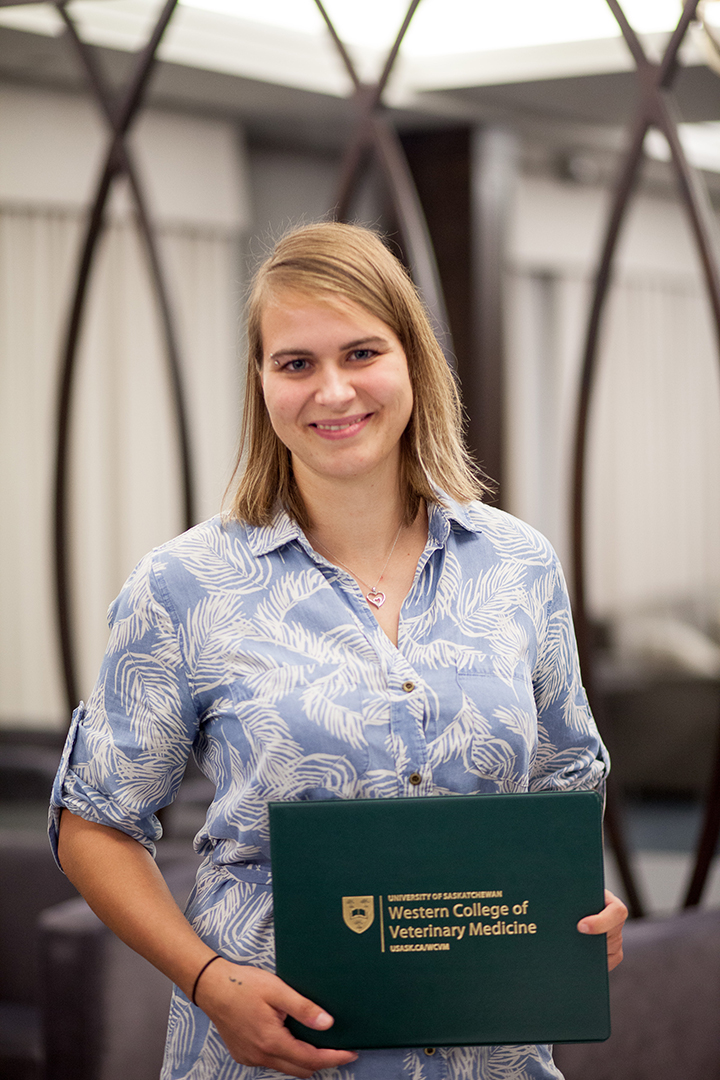 The Janet Adamson Scholarship in Marine and Wildlife Veterinary Medicine: Second-year student Blossom de Bruin received this new award, valued at $1,000.
The award recognizes a student who has worked and/or volunteered in the area of wildlife or marine life.
It's very exciting for me to receive this new award that focuses on contributions to marine and wildlife veterinary medicine," says de Bruin, who worked on a project to repopulate endangered coastal painted turtles in British Columbia during her undergraduate degree.
"Veterinarians play an essential role in wildlife conservation and rehabilitation programs, and being involved in one was extremely fulfilling for me as a student. I am so very grateful to the donor of this award; receiving it encourages me to continue exploring other opportunities to experience the many facets of the veterinary profession, especially with respect to wildlife health and conservation."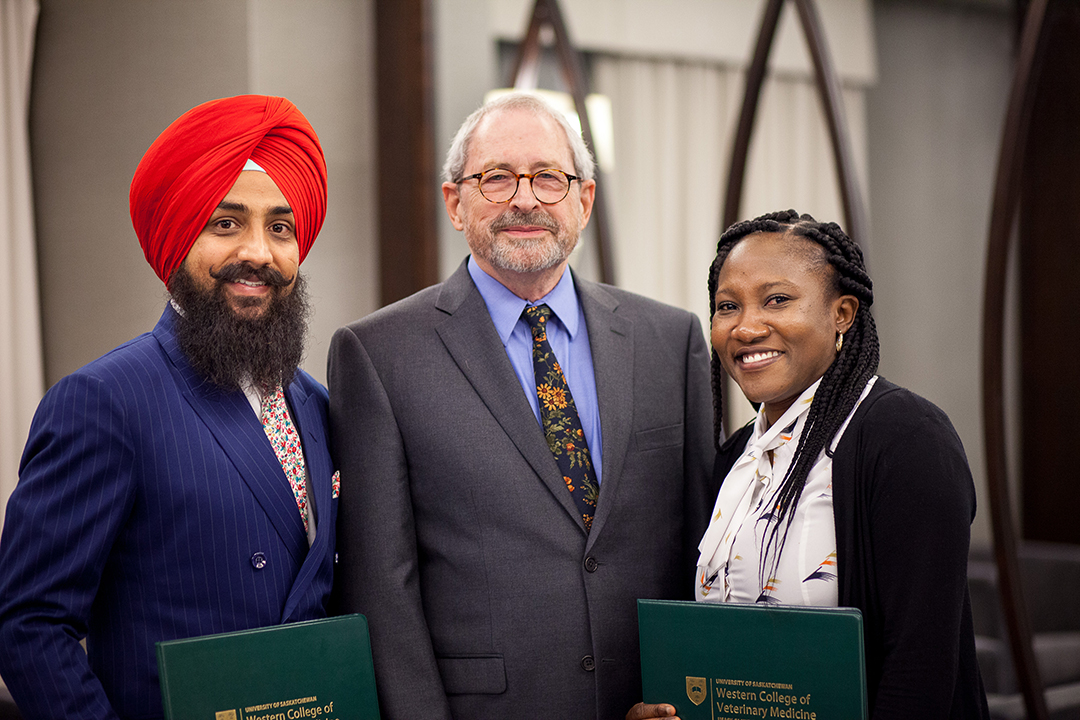 Sharon Blok-Andersen Award in Animal Welfare: This new award recognizes two graduate students who have demonstrated interest and proficiency in animal welfare studies.
The award was created in memory of the late Sharon Blok-Andersen, who had a love for animals and a philanthropic nature.
"I wanted to honour my sister, who died a few years ago. She was interested in animal welfare," says Donald Pole, who created the award.
Ajaypal Singh Kahlon received $800 for his work. He's studying the relationship between stress, climate and influenza in migratory waterfowl, and whether those factors affect the survival of these birds. His supervisor is Dr. Catherine Soos, an adjunct professor in the WCVM's Department of Veterinary Pathology.
"I feel like the award really recognizes and appreciates the work we are doing, the research we are doing. It also motivates me more and more to work hard toward animal welfare," says Kahlon. "Awards like these, they really motivate you to do better in your field. I might sound overwhelmed, but I really love what I am doing and it's fantastic to win this award."
Hauwa Bwala received $800 in recognition of her work on swine welfare. She is studying whether transport over long distances has an impact on the health and productivity of weaned piglets. Bwala is working with supervisor Dr. Yolande Seddon, an assistant professor in the WCVM's Department of Large Animal Clinical Sciences who is also the Canada Industrial Research Chair in swine welfare.
"It is recognition and validation of all the hard work we've been putting into our research. It's been a lot of work, but it's been a collaborative effort. I've had a lot of help from other students, other researchers both here and in the veterinary college in [the University of] Guelph. It's a huge validation for us and the ethology lab. It's a great feeling," says Bwala.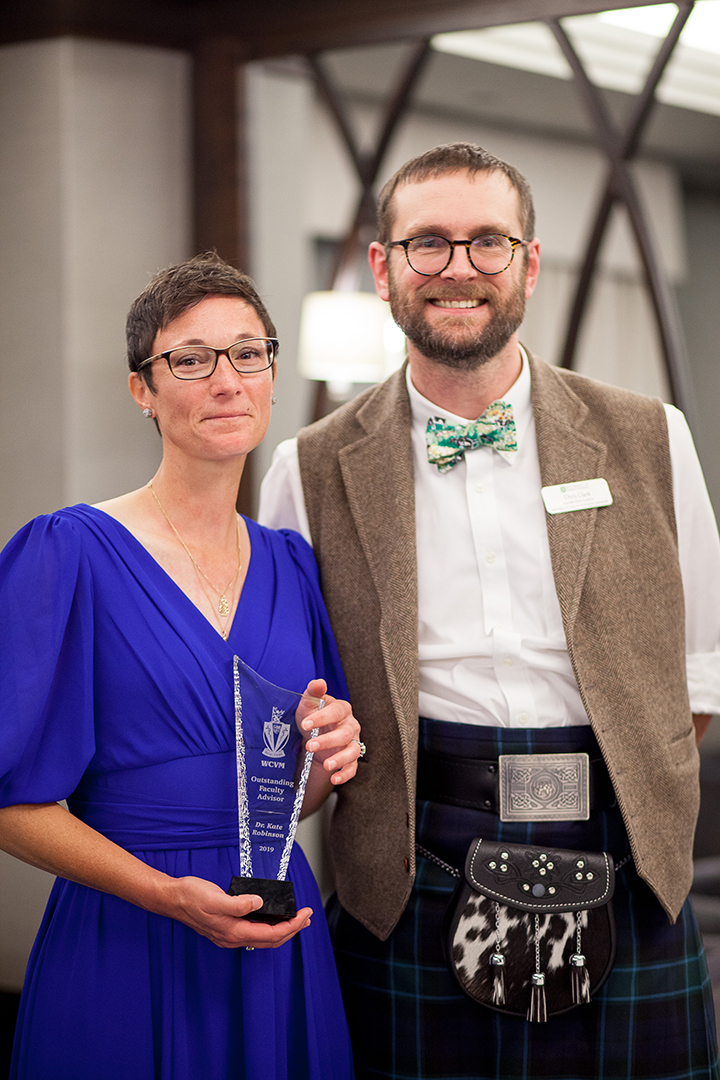 WCVM Outstanding Faculty Advising Award: This new award honours exceptional achievement in the advising of DVM students. It's given in recognition of outstanding advising undertaken by faculty members and expresses the gratitude and appreciation of the college.
Dr. Kate Robinson, an assistant professor in the WCVM's Department of Large Animal Clinical Sciences, was the recipient of this year's award. She says watching students succeed is what motivates her.
"I teach in all four years, so honestly, that might be seeing a student that has never even touched a horse before putting on a halter and leading them properly for the first time, all the way up to fourth-year students nailing joint injections with me for the first time out on field service. I just really love seeing them excel, especially in that clinical setting," she says.
Robinson also received the Zoetis Carl J. Norden Distinguished Teacher Award.
Click here for a full list of 2019 fall award winners.