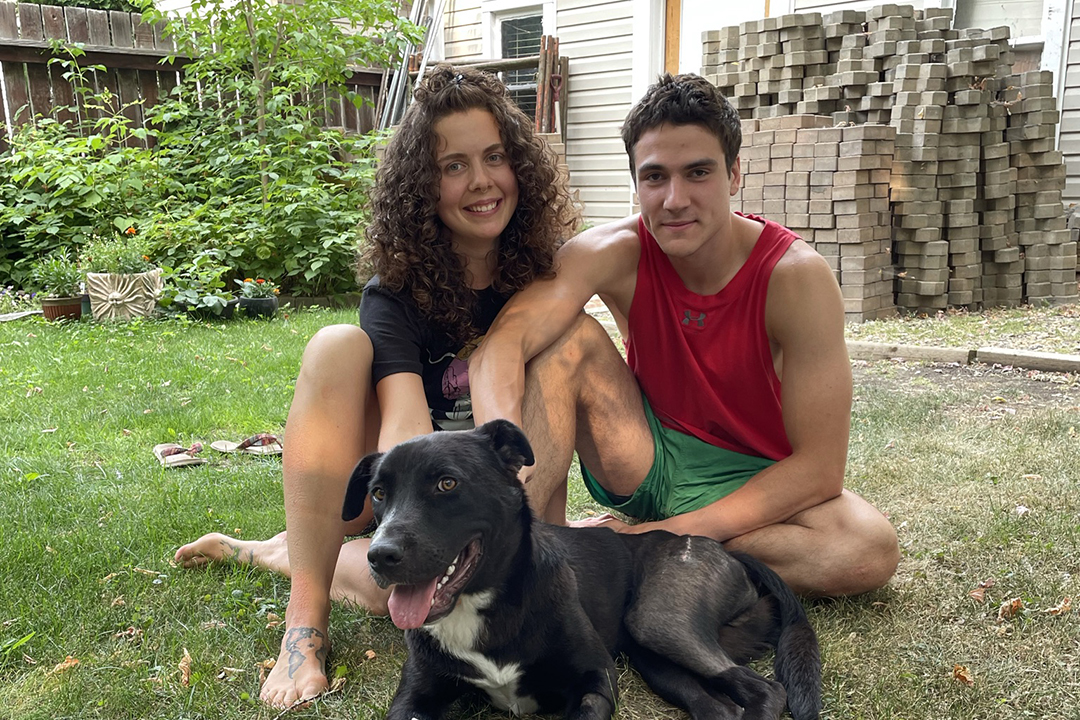 Ace is a mixed-breed, male dog that was first brought to the WCVM for a spay and neuter clinic in May 2021. The clinic was organized by WCVM wellness clinician Dr. Jordan Woodsworth as part of the college's service learning rotation for its fourth-year veterinary students.
The dog was surrendered to the Northern Animal Rescue (NAR) group based out of La Ronge, Sask., which brought a group of 12 animals — including Ace — to the clinic for spay-neuter procedures and routine vaccinations this spring. The college's team, along with community volunteers, held two clinics — one in Saskatoon and one in La Ronge, Sask. — in May and June 2021 after a one-year break caused by the COVID-19 pandemic.
During his evaluation the students observed that Ace, an otherwise healthy dog, had a limp.
"He had more than likely been hit by a car," says Woodsworth.
After further tests, the clinical team found that Ace limped because of a chronic fracture at the top of the femur, a large bone in the canine hind leg. Ace couldn't flex and extend the muscles of his hip, which affected his mobility and caused him pain.
Woodsworth decided to pursue funding so Ace could have access to an orthopedic surgical procedure called a femoral head ostectomy (FHO).
As part of the fund's criteria, cases eligible for support must present a good learning opportunity.
"The learning potential for veterinary students, interns and residents is high, particularly because this is a surgery that can be and is frequently performed in private practice," says Woodsworth.
To treat the problem, the surgeons chiseled off part of the bone, cutting out the ball portion of the ball and socket joint that connects to the hip. The muscles around the hip provide initial stability to the area, forming a "pseudo joint", which is later stabilized by scar tissue that forms over time.  This technique allows the patient to then bear weight on the leg and returns suitable mobility and function of the hind leg.
Two different foster families looked after Ace during his recovery, and he was back to his energetic self quickly.  
"The biggest challenge initially was to keep him confined," says Woodsworth.
"He loves his walks," says Karoliná Steinerová, a graduate student in the WCVM's Department of Large Animal Clinical Sciences and one of Ace's caregivers.
"Ace is a very friendly dog. He likes other dogs, cats, and wants to greet everyone he meets," she says.
Ace continues to receive some rehabilitation at the WCVM to build function in his leg as he recovers. In August 2021, a family from the Saskatoon area adopted Ace.
"The people who adopted him live on an acreage, and I think he'll have a fabulous life out there, with lots of exercise and lots of attention," says Woodsworth.
The generous support of donors to the Les and Irene Dubé Good Samaritan Fund made this positive outcome possible.
"It's only because of our donors that we're able to provide this type of service to the community," says Jenn Molloy, the WCVM's director of development.
"We're so happy that the fund can provide opportunities like this one to dogs like Ace that still have lots of life to live and lots of love to give."