The three-day clinic was a pilot project led by Dr. Jordan Woodsworth (DVM), WCVM clinical associate and PhD candidate, in partnership with the northern community.
"This is just one step in the direction of trying to improve access to veterinary care in this province," says Woodsworth. "There are huge gaps. As a profession and as a community of veterinary professionals, and as communities that don't have access, we need to work together to figure out some of these solutions and improve the health and well-being of animals and communities all over our province."
About 1,300 residents live in Île-à-la-Crosse, the province's second-oldest community, which is located about 470 kilometres northwest of Saskatoon. The closest veterinary practice is in Meadow Lake, Sask., more than 200 km away.
Eight veterinary students joined the veterinary team, along with 17 volunteers from the WCVM and the Saskatchewan veterinary community.
"This was my first time doing a mass spay-neuter clinic and it was like nothing I've ever seen. It was quick paced, and we worked very hard. It was very cool to see such a large team effort," says third-year WCVM student Amber Carson.
The clinical team performed 47 spay and neuter surgeries, along with one wellness check-up. A volunteer also brought one dog back to Saskatoon for further diagnostic testing.
"We were a bunch of strangers who had never worked together before … I was shocked by [the] smoothness of it all. I personally was helped to become more comfortable monitoring and adjusting anesthesia. I felt so supported the whole time, and that is really what stuck out to me above all else," says Carson.
The remote clinics are a great opportunity for mentorship, as they bring together professionals from the WCVM's faculty, registered veterinary technologists and veterinary professionals in community practice.
"These are people who have full-time jobs and who come up and work their buns off for a weekend, then go right back to work on Monday," says Woodsworth. "We couldn't run the program without them and it's really great to have that commitment from people within our veterinary community."
The clinic was several years in the making, and began with discussions with New North, a non-profit municipal government organization for all non-First Nations communities in northern Saskatchewan. While Woodsworth was giving a presentation to New North about dog population management, she met Duane Favel, longtime mayor of Île-à-la-Crosse, who was interested in building a relationship with the WCVM.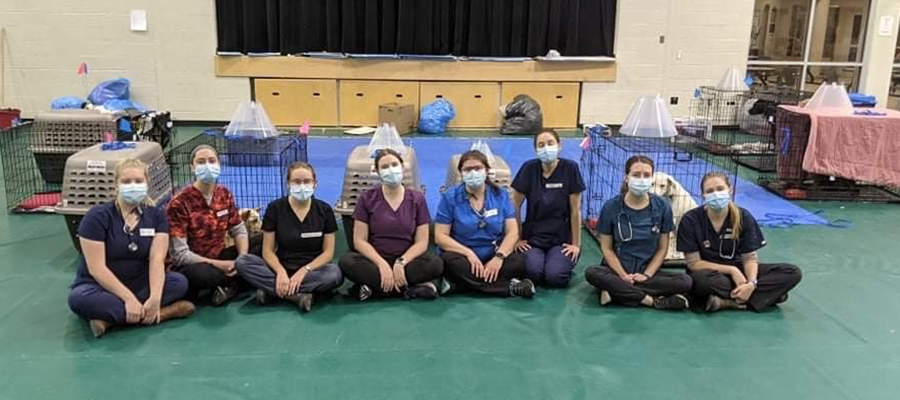 Initial plans to travel to the community were put on hold due to the COVID-19 pandemic, but with proper precautions, the volunteer team held the event in mid-October. The team ran the clinic at Rossignol High School and community members secured accommodations for the volunteers.
To make the clinic as safe as possible, masks were required in all indoor group settings, all participants were fully vaccinated against COVID-19, and animal owners and the public weren't allowed to attend the clinic.
Past WCVM clinics held in La Ronge, Sask., have included a strong public education component, with community members invited to watch the veterinary team at work. While COVID-19 restrictions have reduced these activities, it's an element that Woodsworth would like to see return to future events.
"I'm hoping we'll be able to go back and have more reciprocal learning incorporated. This time we didn't get to engage with the kids at the school much, so I'm hoping there will be more of that next time we go."
Woodsworth adds that introducing youth to veterinary medicine — especially in communities that lack access to veterinary professionals — is key to enhancing diversity in the profession.
"If you're living in a community with no veterinary service, how would you ever think of yourself becoming a veterinarian?"
Favel led the clinic volunteers on a village tour and introduced them to the historically Métis community's strong Michif culture. Participants also had an opportunity to buy beadwork from local artists.
In addition to the mayor's support, Woodsworth acknowledges the work of high school principal Elaine Favel and Donny Favel, the community's chief administrative officer. The community benefits from corporate ownership of many of its facilities through the Sakitawak Development Corporation, which provided access to the necessary supports for the clinic. (Sakitawak is the Cree language translation of Île-à-la-Crosse, meaning "where the river opens out.")
"As a mayor and council, they put up a fair amount of money to make it free for community members to access this service, which is huge," says Woodsworth.
Seeing the strong self-determination and self-governance model at work in the community was a valuable lesson for the volunteers who attended the events, she adds.
"I think being able to learn about the history and … Michif culture in the area was really great for the folks who got to take part in that portion of it, and just seeing the strong cohesion of the community, I think that was really impactful."